ELEMENTSPLUS
REVIEW: BUILD FACEBOOK PAGES LIKE A FORTUNE 500 COMPANY
With the arrival of iFrames and the HTML5 framework, the door to new
opportunities and possibilities of creating a Facebook Page for the express
purpose of Internet Marketing is blown wide open. It is now possible to
create an entire website on a Facebook Page.
Complete web sites with multiple pages, videos, photo
galleries, opt-ins, sales pages, landing pages and links. If an Internet
Marketer wishes to run an affiliate marketing campaign, viral marketing
campaign, or any other kind of campaign, he or she can now harness the
potential of 750 million users on Facebook
It's no surprise, then, that there are many apps now out on the market that
are geared towards helping Internet Marketers gain a foothold on Facebook
and to leapfrog over their competitors. While the question of which app
provider is the best is certainly up for debate, few would leave the X-Tab
team out of the discussion. And now, they have launched their latest
addition to the X-Tab family, ElementsPlus.
Phil Benhan and Daniel Tan had the courtesy to take me through a short
walkthrough of their latest app. I was quite impressed by how quickly a
Facebook Page with a corporate profile theme was set up. With the use of
custom templates and a point-and-click interface, this was all accomplished
under two minutes. Of course the text, videos and images are all prepared
beforehand, but it goes to show just how easy it is to set up a Page with
the right materials. I later learned that one of the challenges facing
Internet Marketers on Facebook is the ability to set up Pages quickly and
efficiently to meet different demands and needs, and ElementsPlus accomplishes this role quite well.
The X-Tab has been promoting ElementsPlus
with the tagline of "Build Pages
Like a Fortune 500 Company". Well, ElementsPlus certainly has the cred to
back it up. The ability to customize a Page anyway I want is absolutely
huge. Custom HTML, custom CSS and even custom Javascript are all direct
features of this app. Users can also insert videos and images anywhere on
the Page. The videos can be embedded from popular video sharing sites like
YouTube and DailyMotion, or directly coded. What's more, the all-important
Like-gating feature is incorporated as well.
However, what really impresses me most with ElementsPlus is its ability to
instantly implement and customize the staple Facebook functions such as
Like, Share, Comments and Invite, in any way I wanted. I could essentially
modify and customize them however I like.
I tinkered around with the app to create a Page with Like-gating that was
aimed at encouraging viral marketing. By using the custom templates, and
with some guidance from Phil and Daniel, the Page was set up from scratch in
a few short minutes. It was quite bare, but it had the infrastructure in
place and is ready for launch. All I needed to do was to include my own
videos and images later to make it complete. Phil also shared a nugget of
wisdom with me, "When generating traffic to your Page, your absolute goal is
to get as many Likes as possible". Safe to say, with the in-built
Like-gating feature and high customization afforded to me by ElementsPlus,
such as modifying the Like and Share buttons to my heart's content, I was
able to create a highly compelling Facebook Page.
All in all, I highly recommend X-Tab's ElementsPlus to any serious Internet
Marketer who wants to get a leg up on the competition in their Facebook
Marketing niche. You can go here (link) and check out more details about the
awesome app.
ELEMENTSPLUS: X-TAB'S LATEST BLOCKBUSTER FOR ULTIMATE FACEBOOK PAGE
CUSTOMIZATION
From the X-Tab team that is Phil Benham and Daniel Tan comes another great
offering for Facebook Internet Marketers. Now, please forgive me if I am
going to sound like I'm just singing accolades from here on out, but to be
quite frank about ElementsPlus, the latest app under the X-Tab family, it
just downright blew me off my socks with its monstrous customization
abilities, cool and slick templates, ease of use and  excellent customer
support.
To give a picture of what ElementsPlus offers for the Internet Marketer,
both expert and beginner, it's necessary to understand the challenges they
face when running a marketing campaign on Facebook using an app. They
include:
Proper technical support for the app

Limitations, such as locked to just a few
Facebook Pages
Hosting, the reliability and responsiveness of
the hosting service.
Customization, which is really important for
Internet Marketers because they want the ability to create a Page that
suits their exact needs and standards. They want to be unique.
Like-gating is also a requirement.
Cost, where they want to keep costs as low as
possible.
White label, where there is absolutely no mention
of the app provider anywhere on the app. Moreover, many Internet
Marketers want to brand the app with their own image.
ElementsPlus addresses all of the above issues admirably
. I started out by
creating a simple company profile Facebook Page. ElementsPlus comes with the
all-important Like-gating feature, where it is just a simple matter of where
one wishes to create the Page under: the Not Liked Page and a Liked Only
Page option. If, say, you do not want Like-gating enabled, simply create
your entire Page on the Not Liked Page option. Otherwise, simply create
another Page under the Liked Only Page option to enable Like-gating.
Remember though, that this means the Not Liked Page becomes your teaser Page
where you drop tantalizing bits about your Page so as to excite people and
get them to like your Page to access the full content (which is created on
the Liked Only Page option).
For purposes of this review I concentrated only on creating a fictitious
company profile Page without Like-gating. I wanted to explore the full
options given to me and to see how far I can go with creating a professional
Facebook Page using ElementsPlus. I didn't have to worry about hosting as
X-Tab provides a very reliable hosting service at no additional charge. I
chose the corporate template theme from the Default Templates tab (ElementsPlus
comes with a number of  custom templates ready for use), and a slick,
professional Page was ready for me to modify and customize as I see fit.
Next, I wanted to insert videos and images into the company profile Page. No
problem here at all. Everything was done with an easy point and click
interface. I was able to embed two videos from Youtube (though I can use my
own video coding as well) on the Page and upload my own images quite easily.
If I had wanted to build a Page from scratch, the whole process would have
actually been quite easy as well. It is easy enough to setup a Page with the
huge customizations available at my fingertips. Custom templates, custom
CSS, custom HTML and custom Javascript allows one to customize virtually
every aspect of the Page, from the borders and elements to even the Like,
Share, Invite and Comments buttons themselves
Speaking of which, this is where ElementsPlus truly shines. Its real power
is the ability to instantly implement any Facebook Social Plug-in such as
Like, Invite and Share and then customizing it in anyway one wishes. You are
limited only by your imagination in creating the Page that you want.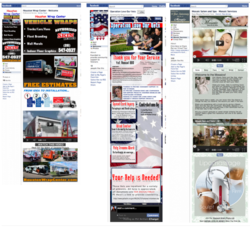 ElementsPlus
also white labels their app. There's no mention of X-Tab or ElementsPlus
anywhere on the Page at all. I'm also given the choice of branding the app
so it looks as if I'm the one that created the app itself and running the
show. This is pretty neat for my affiliate marketing purposes. Plus, I can
create as many Pages as I want with just one copy of ElementsPlus. You are
not bound to a set number of Pages with this sweet app
X-Tab's team of coders and marketers are among the first pioneers in the
Facebook Marketing niche. Their technical support team does a marvelous job
of keeping up to date with Facebook's changes and trends, and Phil has
promised that they will constantly upgrade ElementsPlus accordingly. There's
no need to worry about paying for a new version, as the latest version is
always installed and any existing versions will be upgraded accordingly as
well with no charge.
The X-Tab team also has a very professional, caring and experienced customer
support service. They have always been prompt in answering any questions
that I have. Phil himself is quite active on the X-Tab Facebook Page,
encouraging interaction among the community there. In fact, he gave me a
hint that more apps are to come based on the feedback he received from the
users there.
All in all, ElementsPlus is a rock solid Facebook app that delivers the
goods, and then some. I highly recommend it for any Internet Marketer
looking for the edge to catapult themselves over the competition on Facebook.
Go here for more details on ElementsPlus.
Rating: 9/10
HEAD TO HEAD COMPARISON: ELEMENTSPLUS AND LUJURE
FEATURES
Lujure: Lujure offers a wide amount of widgets, and also has the important
Like-gating functionality built in. Some of the widgets on offer include the
streaming of RSS and Twitter feeds and the development of custom contact
forms. Additionally, the Facebook Page can be built with customizable
layouts, such as variable column widths and uploading of images. However,
the images must meet certain specifications and dimensions before it can be
uploaded, meaning that the use of an external software to modify the images
before uploading onto Lujure is required.
ElementsPlus: ElementsPlus has a rich amount of customization abilities,
including custom CSS, HTML and Javascript. Its interface is intuitive and
easily understood, and it offers a vast amount of elements (widgets) for
use, such as embedding of videos and uploading of images. Addtionally, this
Facebook Page builder app allows customization of the Facebook Social
Plug-ins, such as the Like, Share, Invite and Comments buttons. This
powerful feature allows for the creation of unique, tailor-made experiences
for fans and visitors alike for a Page. Like all other Facebook Page builder
apps worth their salt, ElementsPlus also incorporates the important
Like-gating functionality, which is very easy to use and straightforward.
ADVANTAGE: ElementsPlus
TEMPLATES
Lujure: The templates have variable column widths and image placement,
allowing for the building of basic Pages easily and quickly. Additionally,
the rich repertoire of widgets that it has enriches the Page that is
created, such as the inclusion of YouTube and and RSS feeds.
ElementsPlus: ElementsPlus allows for the building of custom templates. It
also has several ready-made template themes for use right away, such as
company profile and product overview. The templates are highly customizable,
allowing for the adjustment of column widths, video placement and image
placement. You can save these templates for future use, or modify the
existing templates to get a quick headstart in building a rich, diverse
Page.
ADVANTAGE: ElementsPlus
EASE OF USE
Lujure: Navigating Lujure's interface may be difficult at first. While it
does have tutorials on its website, not all of its widgets are explained in
depth. Additionally, it does not allow you to name your tabs, which must be
done on your Facebook Page's administration tools. As already mentioned,
because the modification of images must be done outside of the designer
interface of the app itself, knowledge of working on external graphics
application software such as Photoshop is required. Moreover, the
programming side could have made building the Pages a little more intuitive
for the user as well, such as eliminating the need to click on the Done
button twice in a row for uploading images to prevent confusion.
ElementsPlus: ElementsPlus has a simple, point and click interface that
makes navigating its enormous customization abilities a relative breeze.
Their site has both a video and document tutorial that gives a basic
explanation of how to work through creating a Page, though it could have
gone a little further into detail. Still, the customization of the Like,
Share and other Facebook Social Plug-ins is very intuitive for the user. The
building of Pages and the subsequent publishing to Facebook itself is also
faultless. Their tagline, building Facebook Pages like the professionals in
under 5 minutes, is pretty apt given its straightfoward and direct interface
that streamlines the building process.
ADVANTAGE: ElementsPlus
HELP & SUPPORT
Lujure: Lujure has a healthy, vibrant online community that is very active
in providing support for each other. Additionally, when we contacted the
company for an inquiry, a representative responded within 24 hours with
helpful information. The established company's website also has tutorials, a
blog, articles and a FAQ.
ElementsPlus: ElementsPlus is still a relative small community, but it is
growing healthily at a fast rate. When we contacted the company for further
details, Phil Benham, the man behind ElementsPlus, answered our query
directly within a day. The community is very close-knit and Phil and Daniel
spend a lot of their energy looking after their customers and fans. Their
site also has a rich collection of tutorials, articles and videos detailing
the concept and ideas behind successful Facebook marketing.
ADVANTAGE: Even
PRICING
Lujure: $27 per month for a single user is Lujure's most commonly subscribed
plan. It is limited to the use of 3 Pages. To get unlimited use of Pages,
you must upgrade to a $195 per month business plan.
ElementsPlus: $19 per month for a single user. This is ElementsPlus' only
available subscription plan for single users, but with it you get to use it
on an unlimited number of Facebook Pages with all of the features and
functionality available to you, plus the ability to white label the app.
There is also an option to own it for life, which would cost you just $129
to do so. There is even a plan for multi-users, which is attractive for
affiliate marketers and big businesses, that cost just $49 per month for
subscription and $289 to own it for life.
ADVANTAGE: ElementsPlus
SUMMARY
ElementsPlus
is the hands down winner. While Lujure offers a wide variety of
widgets and various templates, ElementsPlus offers the same and much more,
such as the ability to customize the Like, Share, Invite and Comments
buttons. ElementsPlus' user interface is easy to navigate, and unlike Lujure,
it is intuitive. For the pricing that both offer, ElementsPlus is definitely
the more attractive choice. Both have vibrant and active communities and
excellent tech support  and customer service.
ELEMENTSPLUS: JUST WHAT INTERNET MARKETERS HAVE BEEN
LOOKING FOR TO GAIN THE EDGE ON FACEBOOK
Build Pages like Fortune 500 companies
The ultimate custom page-builder app has finally
arrived
Want to build Pages the way you have always wanted it?

Get ready to up your Facebook Marketing game with
ElementsPlus
 —————————————————–

The juggernaut that is ElementsPlus has made an
impressive debut and is showing no signs of slowing down
The brainchild of Phil Benham and Daniel Tan, the
people behind X-Tab, ElementsPlus was conceived and created to address the
unique challenges and issues faced by Internet Marketers on Facebook.
With Facebook increasingly making its gigantic
presence felt on the online marketing scene, it only makes perfect sense for
Internet Marketers to focus their attention on Facebook and its growing user
base of 800 million people.
One of the main challenges faced by Internet Marketers
is that of finding an app that allows them the freedom to design a Facebook
Page anyway they wish to meet a specific market niche's needs and wants, to
give their customers and visitors a unique, tailor-made experience.
ElementsPlus is exactly just that app It allows
Internet Marketers to customize almost every aspect of an unlimited number
Facebook Pages. Think custom CSS, custom HTML and custom Javascript That's
not all, however. X-Tab has really outdid itself this time by allowing users
the ability to instantly implement Facebook Social Plug-ins.
This is the REAL power of ElementsPlus. Internet
Marketers can now customize the ubiquitous Facebook functions such as Like,
Invite, Share and Comments to meet their exact standards and criteria
Truly, one is only limited by the imagination when creating the perfect
Page Another attractive factor about ElementsPlus is its great technical
and customer support. In fact, this is the strongest attribute about the
X-Tab team: a professional team of marketers and coders who are among the
FIRST pioneers  in the Facebook marketing niche. The team has tons of
valuable experience under their belt and show tremendous care and
professionalism in looking after their customers.
They are highly adaptable and are quick to sense new
trends and movements on Facebook, and respond quickly (such as updating
their current apps) in order to ensure that their customers are always kept
up to date.
The low cost of ElementsPlus is another huge plus
point for Internet Marketers. Instead of paying hefty sums to consultants to
do the work, they can now equip themselves with an intuitive, easy-to-use
app that comes with custom templates (or if they want, they can build their
own) that allows the set up of a Page in mere minutes And this cost is a
one-off purchase; there are no additional or hidden costs to speak of.
Additionally, owners of ElementsPlus always have the latest version of the
app installed.
It doesn't take a guru to know that ElementsPlus
is a
potent addition to any Internet Marketer's arsenal. The real power to
instantly implement and customize any Facebook Social Plug-in such as the
Like and Share functions to create a tailor-made experience and adapt to any
kind of marketing campaign cannot be stressed enough. ElementsPlus is
exactly what Internet Marketers are looking for to leapfrog over their
competitors Be sure to get your very own ElementsPlus today
FACEBOOK MARKETING IS RAPIDLY REVOLUTIONIZING SOCIAL
MEDIA MARKETING AND CHANGING THE LANDSCAPE. THE AGE OF THE NFO HAS ARRIVED. It
has been barely half a year since the arrival of the new kid on the block,
iFrames, and the departure of the old, FBML, and already the Facebook marketing
scene is evolving in incredible leaps and bounds. What lies in store for us?
Read on to find out
March 11th was the day that a totally new era for
Facebook began. That was the day when iFrames made its debut, ushering a
new era of Internet marketing with its much improved features and
functions over the old FBML. With the arrival of iFrames, the
possibilities of creating a real, complete web site on a Facebook Fan
Page became a reality, not just a mere possibility. So drastic was this
change that many people began to devote their time exclusively to
Facebook marketing, as such was the power and draw of the new Facebook
Fan Page capabilities. It's safe to say that iFrames has revolutionized
Facebook Pages to such a degree that it has forever altered the way
people present their brands and product online, not to mention a
complete overhaul of their marketing and sales strategies.
Social media marketing is not a relatively new
phenomenon, but the changes initiated by Facebook has dramatically
altered its landscape. The new opportunities presented and its sheer
number of devoted users has prompted numerous Internet marketers to
shift their focus from other social media sites like Twitter and Youtube
exclusively to Facebook and be a part of the early stage of change. Many
do not want to be caught out in the cold when the revolution starts, as
it inevitably will. 7 months in and the vast majority of people are
still looking for the right app that will power their Facebook marketing
and catapult them past their competitors.
In response to this need several enterprising
individuals and teams alike have presented their own app or system to
users as the solution to their challenges. FB X-Tab, for example, is a
complete solutions provider that not only takes advantage of both the
iFrames and HTML5 to present unique solutions such as reveal page
technology and share and like-gating functionality, its best, most
distinct feature is its ability for users to add applications to an
unlimited number of pages with an unlimited number of fans. Most other
application providers limit by number of Facebook pages or number of
fans.
What's more, it uses a very intuitive, easy point
and click interface for designing complete Facebook Fan Pages. In fact,
a new term has come into being to name the pioneering social media
marketers who focus exclusively on Facebook. Coined by Phil Benham, the
developer behind FB X-Tab, these trailblazers are called News Feed
Optimizers, or NFOs for short. As the name implies, they focus on the
Newsfeed of Facebook as this is where Facebook users spend most of their
time, and where awareness and traffic are created and generated. As
Facebook continues to evolve, it will no doubt impact the social media
marketing scene in very significant ways, redefining how people plan and
strategize their marketing and sales on social media sites.
A new chapter of social media interaction is upon
us, and NFOs are going to revolutionize Internet marketing, for the
better.
 Are You In On the New Game?  
If you're not onto Facebook yet, there has
never been a
greater time than now to grab this opportunity
Consider that Facebook
is in use by 800 million people, with
the user base
growing day by day at a tremendous pace
can be accessed by mobile devices,
which are
outnumbering personal computers
now 4 to 1
allows you to drive targeted traffic
in ways that
were almost impossible just a
few months ago
has become so popular that a new term
for its
consumers, "fansumers", has made
its way into
our everyday vocabulary
It's the proverbial calm before the storm
YOU can be
among the first wave of pioneers trailblazing a new path
as Facebook redefines the entire game of how we play
Internet Marketing with its new changes
Get  ElementsPlustoday  Are you in on the
game?Your Key Facebook Marketing Challenges
Facebook is an entirely whole new ballgame
for some, and
yet the way Facebook keeps changing itself means that
even the experts and pros have to stay constantly on top of
the game.
Tough times, right?
Here are some key challenges that you
have, or will,
come across:
Small number of Facebook apps that
are geared
specifically towards Facebook
Marketing, and even
fewer that truly understand how
you, an Internet
Marketer, want it to be.
Services that don't have the proper
technical
support.  Your apps quickly
become outdated
because there is no upgrading of
their current
version.
Limitations. You build 10 pages and
then the app
quits on you because you hit the limit.
Pretty unfair,
right?
Hosting. You have to go high and low
just to find
a reliable host. And even then,
the cost may be too
high.
Customization. You want an app that
gives you
close to full control of what
you can do in creating
Facebook Pages. Just the way you
want it, not
how it should have been.
And one of the biggest challenges you, or
anybody, can
face is:
COST. Outsourcing and hiring
consultants can
sometimes cost an arm and a leg.
You want an
affordable alternative.
 Have You Got Your Secret Weapon
Yet?
Quick, what's a Facebook
app that can allow you to:
Customize almost every aspect of
a Page?
Add videos easily, anywhere, no
limits?
Add images easily, anywhere, no
restrictions?
Provide eye-catching Page
templates?
Use on an unlimited number of
Pages?

No restriction on number of fans?

Simple point-and-click interface?

Customize the Like, Share, and
Invite buttons
anyhow you like to give your
fans a unique
experience?
And..
If you answered ElementsPlus, you're
right on the money.
Time for Your Page to Show You the
Money
There are already many tools and
apps in the market
that claim to give you the edge you've been looking for
in
Facebook Marketing.
But I know you deserve only the
best.
Introducing ElementsPlus
Build Facebook Pages like a
Fortune 500 company
Humongous customization of
every aspect of  of
a Facebook page
Unlimited number of Facebook
Pages
Point and click, copy and
paste
Custom CSS, HTML and
Javascript functionality
Include ANY kind of video in
your Page
ANYWHERE
Custom templates included for
quick professional
Page set-ups
Attract viral traffic
immediately with our in-built
like-gating
functionality
Constantly updated to keep
with any changes
Facebook may introduce
Every function of Facebook
such as Like, Invite,
Share and Comments can
be customized
It's time to get your Facebook Page
viral my friend, and
see immediate results.
Get
ElementsPlus now
 Blue Corner
If I showed you an app to
build custom Facebook Pages
like a Marketing Pro in under 5 minutes, would you
take the offer?
Facebook has changed the game
again.
Blue corners.
Unified News Feed.
Timelines.
A new Recommend function for
people to recommend
Pages to friends.
More than ever, now is the
time.
Get the edge over your
competitors today with
ElementsPlus.
I'm looking forward to your
Facebook domination
SOCIAL MEDIA EVOLUTION: FACEBOOK NFO HAS OVERTAKEN
SEO IN THIS NEW AGE OF INTERNET MARKETING
NFO. THE BEGINNING OF THE DAWNING OF A NEW AGE IN INTERNET
MARKETING
What is NFO? More importantly, are you a trailblazing
pioneer for social media evolution?
A new breakthrough in Internet marketing is now upon us. In
tandem with the way Facebook has grown and developed over
just a span of a few years, it has changed the way people
use the Internet. That is, it is more and more a social and
relational vehicle. How does the new opportunities posed by
Facebook impact on Internet marketing? A new approach to
Facebook marketing is needed  to harness the power of
Facebook as the primary social media platform in this day
and age. A totally brand new, revolutionary approach is
called for.
In fact, there is a term for the new wave of pioneers that
are arising now to take advantage of the opportunities that
Facebook's change to iFrame has brought to the marketing
world. They are called NFOs: News Feed Optimizers. Similar
to SEOs (search engine optimizers) of the past decade of
Google dominance, they are shaping a new marketing reality
that is slowly making its course as more and more big,
multinational companies, and even Fortune 100 companies, are
making their presence felt on Facebook. Why are these
companies and corporations, ranging from family-owned
businesses to Fortune 100 companies, heading there? It's
because they want to grow and engage with their customers in
fruitful interactions on the most prominent social media
platform of the time, which is Facebook. Marketing is now a
two-way interaction, and that interaction is now livelier
than ever before.
This poses many challenges to the companies and
corporations. How do they go about engaging with their
customer base on Facebook? What is the setup of a Facebook
Fan Page? How do they keep track of data on Facebook? How
can Facebook be incorporated into their overall marketing
strategy? How do they go about harnessing the incredible
potential of Facebook?
Enter the NFOs.
Coined very recently by
Phil Benham and Daniel Tan, the
prominent developers and creators behind FB X-Tab, NFOs are
total solutions providers to companies and corporations on
their Facebook and social media marketing problems and
challenges. For a start, many companies think that Facebook
marketing is all about building a Facebook Fan Page, and
then that's that. Actually, this is a grave mistake. For
instance, how do people become aware of a company's
existence on Facebook? It is not from the Fan Page, people
actually become aware of something from the Newsfeed portion
of their page. Hence the term News Feed Optimizer.
NFOs help optimize the news feeds and the relationships
between a business and the customer so that the list of any
business continues to grow. Not only that, but they also
make sure that the engagement and interaction with the list
is rich, thus ensuring list loyalty and customer
satisfaction. This is easier said than done, as Facebook has
just dramatically altered its policies only a few months ago
and many people are still unsure as to how to go about
marketing on Facebook despite the rich opportunities there.
Not so with NFOs.
With FB X-Tab, a complete Facebook marketing tool system,
NFOs are steadily delivering amazing results by maximizing
EdgeRank and capitalizing on the relationships that can be
built via the Facebook Newsfeed. A common misconception is
that Facebook Fan Pages bring all the traffic. Actually,
people on Facebook spend more than 80% of their time on
their Newsfeed. That's where the traffic comes from. NFOs
use News Feed Marketing to solve real problems faced by
Facebook users.
All the changes from SEO to NFO represent a huge and
monumental shift in the way marketing is done. More and
more, it's about knowing how to establish an engaging
relationship with the customers and users on Facebook in the
right ways that will make or break any company, even Fortune
100 ones.
It is very interesting to see where the pioneering NFOs of
today will revolutionize social media marketing, and even
social media itself, in the years to come. A new age is
beginning to dawn, and the call for brave and pioneering
spirits to take up the torch has sounded.
The Open Graph App Experience by Phil
Benham (FB X-Tab)Facebook's ticker, flyouts (refers to pop-out window that
opens when you click on an item in the ticker), timeline,
Open Graph and GraphRank give marketers a more concrete way
of focusing on social discovery, engagement, and targeting
opportunities.  XTAB refers to this as the Open Graph App
Experience.
Here is how marketers may leverage these new features on
Facebook.
1. Put your content on the Graph
To participate in social story creation and promotion, you
have to be part of the Open Graph. These social stories show
in the ticker each time a user performs an action in an
application, and are then aggregated into the timeline. When
those actions form a social pattern, as identified by
Facebook's new GraphRank algorithm, they also gain more
prominence in friends' news feeds.
2. Extend Pages with Open Graph Apps
Facebook marketers have long relied on the fan page as their
only real presence on Facebook.
It's time to extend past this to create an experience that
is truly social by design and conveys your brand identity.
Apps are more essential than ever with the latest Open Graph
updates, as they are the centerpiece for story generation.
Without such an approach, you might find your messages are
lost among all the real-time activity streaming from Open
Graph apps into the ticker and news feed.
3. Create Your Own Verbs
By expanding beyond just the verb "like," new opportunities
open for marketers to bridge offline and online experiences.
Every offline experience and action that is inherently
social can now be put online and be addressable. Think about
"driving a new car" or "sampling a new beer." Think about
the verbs used when customers interact with your product, or
owning your own verb (e.g., "Install an App"). More
important, however, is to integrate those actions and verbs
into sharable and social experiences.
4. Use Facebook Insights for your Apps
Dig deep into the patterns and trends of your customers and
users. Focus both on how they create stories and engage
around your company as well as how their friends engage with
those same stories. Understanding what resonates, and what
users ignore, is ultimately an essential step in managing
your GraphRank. A high GraphRank will build more relevance
in friends-of-friends, and drive additional discovery via
the news feed.
5. Use Sponsored Stories To Drive Traffic
Stories that resonate best should be plucked out of the
Ticker, in real-time, and sponsored to friends for greater
impact via sponsored stories ads. There is a wealth of new
power to leverage in sponsoring "objects" you own (e.g. a
baking brand can message out to anyone who has cooked lately
via any app), as well as people who have "cooked," "viewed,"
or "eaten" their recipe.
6. Work GraphRank To Make Your Ads More Effective
Facebook is moving squarely into the field of
intention-based advertising, by making explicit the specific
types of connections users have to objects. As such,
coupling an understanding of what user stories drive
engagement, with specific intentional verbs, is a powerful
combination. For instance, marketers can target in-market
car buyers, as those who have test-driven lately. While this
intention based targeting may not have the same volume as a
traditional campaign, when done correctly should yield
higher engagement and pass-along rates.
7. Go Beyond The Click
Understand how your users behave once they are within your
app, and not just how they got there initially. At the most
fundamental level, it is essential to understand the series
of actions that drive engagement, and conversion. By
identifying patterns amongst your most avid users, finding
their friends or others like them can be made possible by
traversing the Graph. Data that lives beyond the click is
the key to unlocking value, and can be used to inform and
drive more effective marketing both inside, and outside of,
Facebook.
The marketing recommendations explained above presented by
XTAB take advantage of Facebook's new social feedback loop,
and expose the Open Graph App Experience. ELEMENTSPLUS