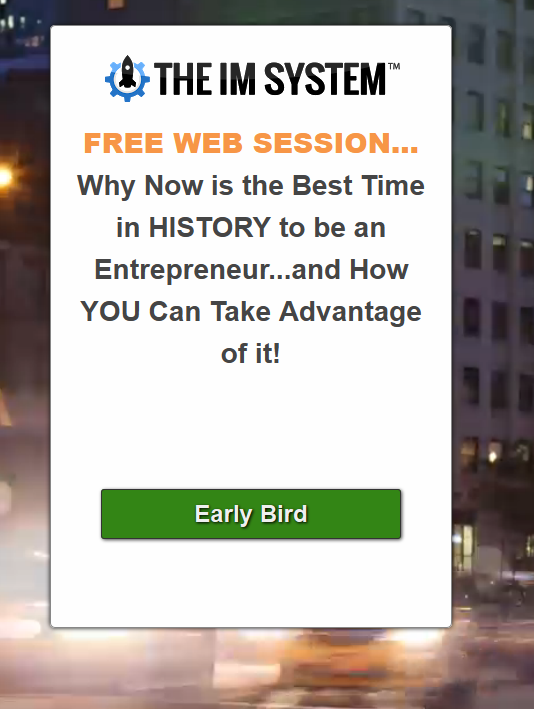 Free Web Session for The Im System
Why Now is the Best Time in History to be an Entrepreneur…and
How YOU Can Take Advantage of it.
.
.
.
JV With Roger Gonzales
Prelaunch for Kenster's The IM System is just days away and based on the performance of his last mid ticket programs, this is one of those MUST DO promos this year.
(I'm recommending this to you because I believe in Ken and the quality of what he produces for our community, and that's why I'm telling you about this).
Get your stuff lined up to hit this one…
——————————————————
Prelaunch starts (March 13th)
The IM System launch is (March 25th)
Sign up for your Affiliate Link TODAY
Sign up for your 2nd tier (10%) link TODAY
——————————————————
And see more details about the program and a walk through at…
There are already 50 affiliates signed up UNDER A 2ND TIER REFERRAL meaning there's going to be a lot of happy folks earning some nice bonus commissions ON TOP of the regular commissions they'll earn from mailing their list.
What is second tier?  It means you can grab a link, send the link to your affiliate base (or run FB ads to potential affiliates) and all traffic goes to the JV PAGE.  Any affiliate who signs up to promote The IM System through your link, you'll earn 10% of THEIR sales.  If they collectively generate $20,000 in commission, you get a check for $2,000.
If you need anything, reach out to Ken directly via skype (ken.spano)
See you on the leaderboard
Roger Gonzales